We provide a wide variety of urns to serve your needs.
Check below to see the different categories of products that we offer.
Contact Us
Standard Pet Cremation
Included in each standard pet cremation is a hand-carved urn and a certificate of cremation.
Our hand-crafted, rosewood urn comes in 4 different sizes to accomodate the size of your pet. The Certificate of Cremation includes the name of your pet, the dates of life for your pet and is signed by our owner, Mark Keel.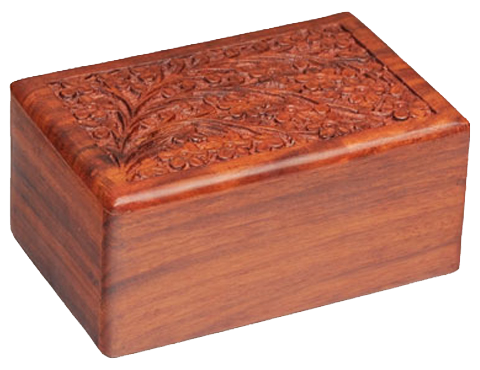 Additional Products
We have 2 separate sources for additional products that we pull from. The first of which is PetUrnCatalog.com. They have an extensive list of products including:
Traditional Urns
Headstone Markers
Digital Picture Frame Urns
Personalized Name Plates
The second website is MemoryGlass.com. Memory Glass provides a unique method of memorializing your family, friends and pets by suspending cremated remains within solid glass sculptures and keepsake jewelry. Products include:
Hearts
Orbs
Pendants
Touchstones